Gutters
There's nothing worse than dirty gutters. The filth that gets caught in gutters can clog spouts, cause water damage to the roof or house, and cause erosion on the ground. Not to mention how cluttered and messy they make the house look. We can get those rain gutters taken care of in no time flat. Gutter cleaning and gutter repairs are two of the most commonly sought after services that we offer. We can also permanently fix those gutters if you like. We can install gutter guards for customers who are tired ofdealing with gutter cleaning and maintenance year after year. We offer gutter cleaning services and repairs locally, all throughout our community in Chevy Chase, Bethesda and the Upper Northwest D.C. corridor! A brief description of our three gutter services is listed below. There are simple directions for scheduling an appointment and getting a free estimate. As always, feel free to call us at (301)655-1740 with any questions you might have. We love to hear from our neighbors!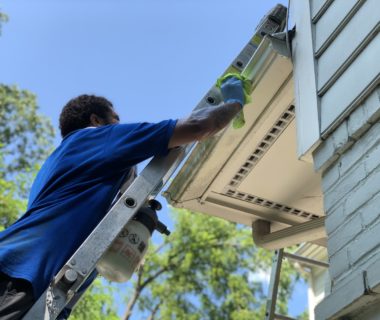 The skilled professionals at Chevy Chase Exteriors can handle any gutter repair job required. When we first meet, our team will fully assess the problem, provide an explanation of the work required, and a quote.
Let us keep debris out of your gutters by installing gutter guars. Gutter guards, hoods and covers are highly effective in keeping leaves and other debris from clogging downspouts. With the result that cleaning is simpler, less time consuming and needed less frequently.
How we work
The members of our team are highly experienced. We're also committed to being efficient, detail-oriented, and conscientious. In that regard, we treat each property with the utmost care and respect. Furthermore, you won't have to worry about us leaving a mess behind. As our customer, your benefits include:
Reasonable rates
Honest estimates
Flexible appointment times
Why choose us
Customer Focused
Our specialists are here to serve your specific needs. We won't stop until you're 100% satisfied.
Affordable Prices
With some of the best prices on the market, we guarantee your experience with us to be a pleasant one.
Got Questions?
1. When can we get started?
In short, we can get started right away! Once we have spoken to you, we'll send one of our service professionals out to your home or office to give you a free estimate on your gutter service.
2. How much does it cost?
Our prices vary from job-to-job based off of size and needs. So call today for a free estimate!
3. What other help is available?
Here at Chevy Chase Exteriors, we are skilled in dozens of home improvement areas for your convenience. Call us today to see how we can help!
4. What payment methods do you accept?
We accept both cash and credit cards.