Deck Repair and Carpentry Repair
We can bring your deck back to life and looking new again. Have your deck safely cleaned and refinished and protect the environment. Chevy Chase Exteriors provides deck repairs, carpentry repairs, remodeling, and improvement services to fix and upgrade your deck. We can take care of all your deck needs, from replacing your deck's railing to adding a bench, fully resurfacing the deck, or replacing select decking boards.
We find a solution that fits every budget. Murray, Mark, or Joey can consult with you, appraise your deck, and quickly give you the best options available. We can remove and replace any damaged deck boarding, leaving the healthy boards in place, making it look like they were all laid at the same time when we are done. Then we sand the deck down, before applying a layer of stain and sealer or paint so everything matches. This leaves you with a beautiful, safe, and functional deck.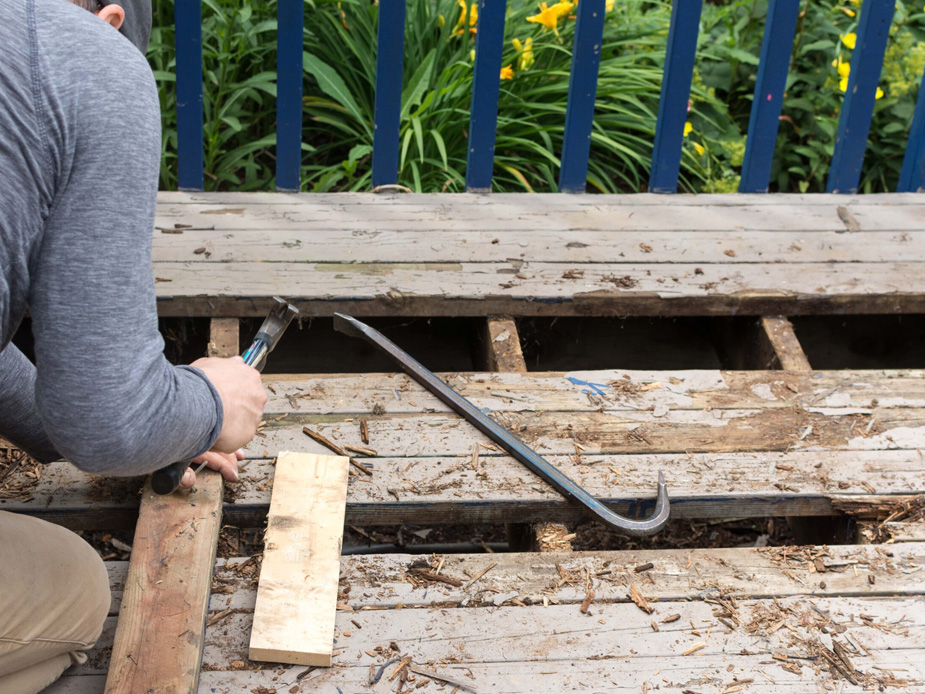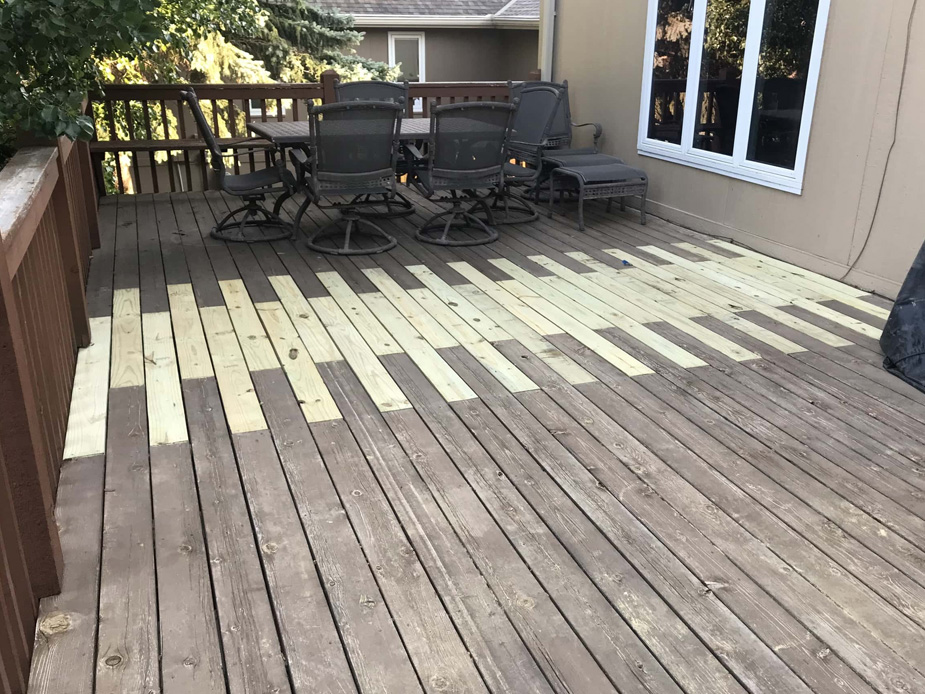 Trex
Chevy Chase Exteriors can repair and restore your home's interiors due to mold and mildew. We offer a product called Trex composite decking. Trex is a type of composite decking made from 95% recycled wood and plastic. Unlike wood, it requires very little maintenance and it won't rot. This product is great looking decking material that is extremely strong and durable. Unlike earlier types of composite, it won't fade or mildew. What sets Trex apart the most, though, is its beauty, with deep faux wood grains and over a dozen colors to choose from, there's a Trex collection for everyone. We care about our community and the environment and we recommend Trex because it will eliminate deck repairs or deck maintenance for years to come. We love our neighbors and the environment, so we suggest Trex as one of the best deck surface options on the market. We use Trex because they offer the highest quality decking material and have a commitment to environmental and social responsibility. So if you want the best-looking, safest, most durable, and healthiest deck possible, let our experts resurface your deck with Trex today!
Call 301-655-1740 and get your free Trex quote today!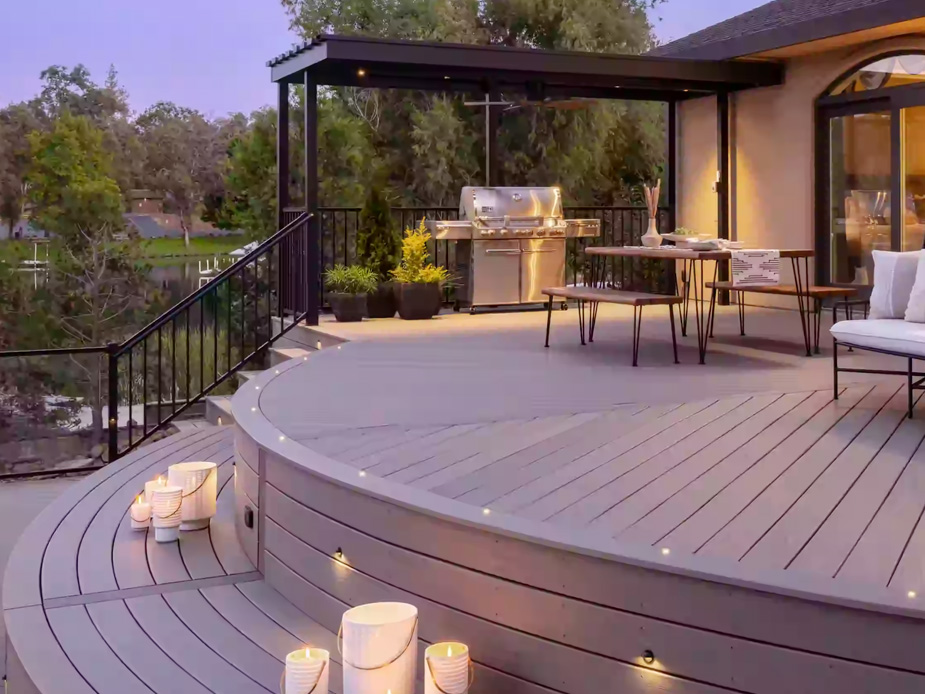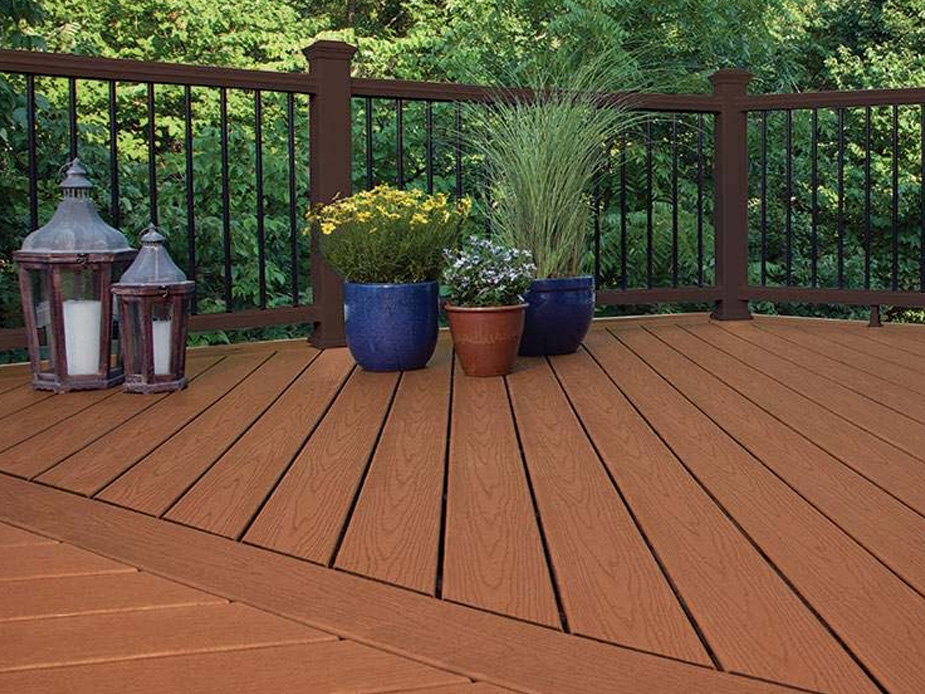 Deck Refinishing
Make your deck look brand new. Call Chevy Chase Exteriors about what deck refinishing options we can offer you. Deck refinishing is a great way to revitalize any deck. We bring new life to a worn-out deck in a quick, cost-effective way. Often most deck boards are in good condition. If some of the deck boards are in bad shape it might be worth considering deck resurfacing instead. But that's why you should call us, your friendly neighborhood decking and handyman service specialists!
The first step we take will be an on-site inspection and consultation with you. We want to be thorough and look for rotted boards or other rough spots that need repair. Once we find that deck resurfacing is the solution that best fits your needs, we quickly get our expert staff on the job. The deck is now cleaned and power washed. The old, faded, and chipped stain and sealer are completely stripped off. The deck is sanded smooth to get the best results, and finally, it is stained or painted.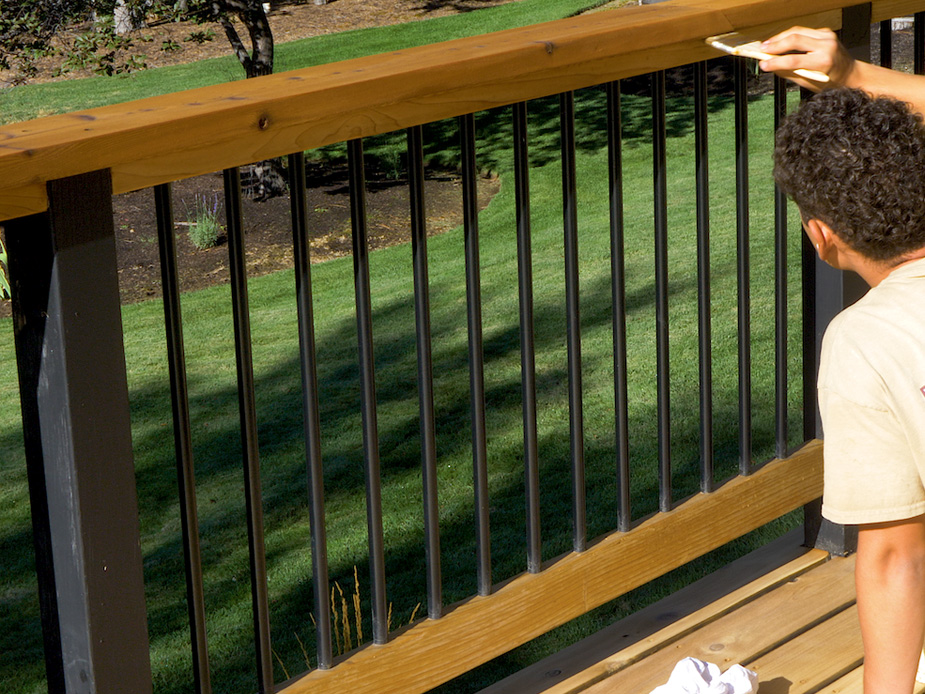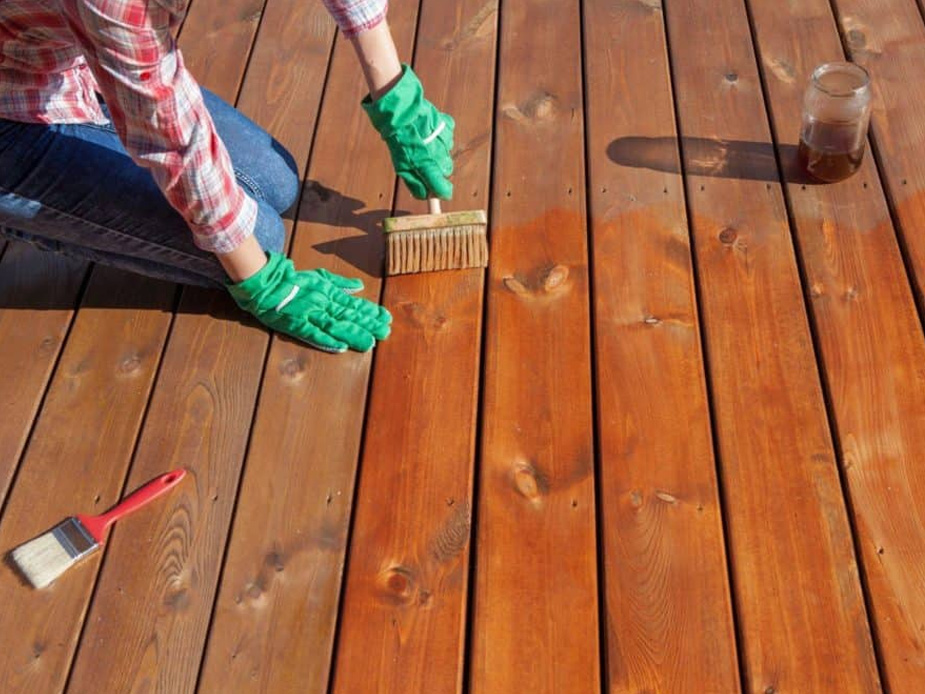 Deck Painting
Make your deck look and feel brand new again without that new deck construction cost. A professional paint job applied by skilled painters can do the trick. If your deck needs a new coat of paint, contact us here at Chevy Chase Exteriors. We're the local family value one-stop deck and handyman service shop. We will sand off all of the old, dingy paint before we apply any new coat, giving it that detailed, finished, new deck look. Freshly pained decks are environmentally safe, the paint repels water protecting the decking itself just like a sealer does, and the paint helps to fill in small cracks throughout the wood decking, giving you and your family a healthier, sturdier deck.
Chevy Chase Exteriors carries a wide variety of paint colors for you to choose from, giving you the customized look that you really want. If you need more information, read our article called Benefits of Paint vs Stain. Or feel free to call us any time at (301)655-1740. We're right around the corner and would love to come and visit with you and see how we can help.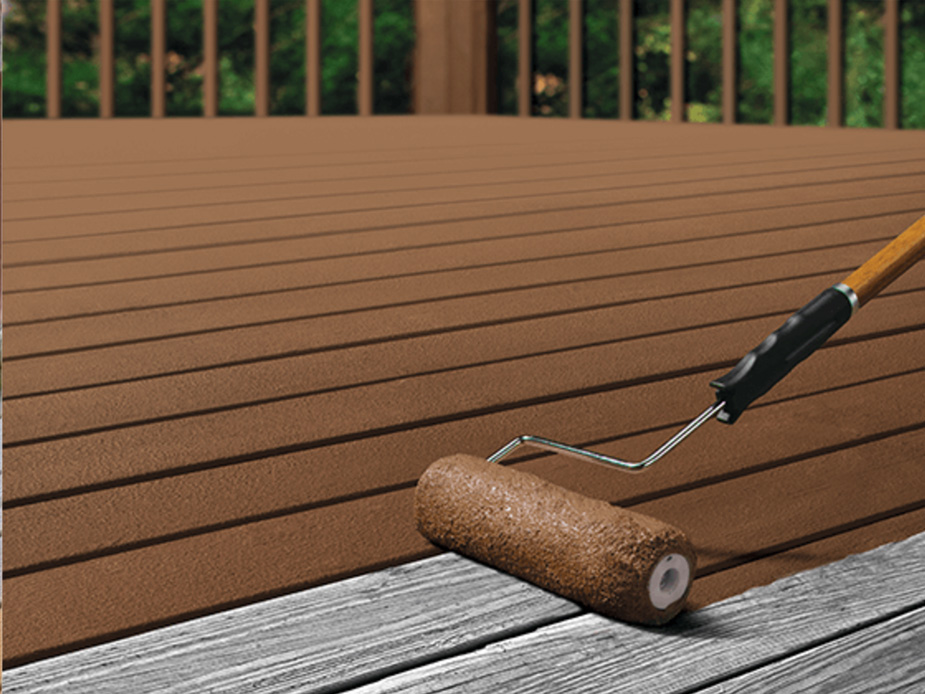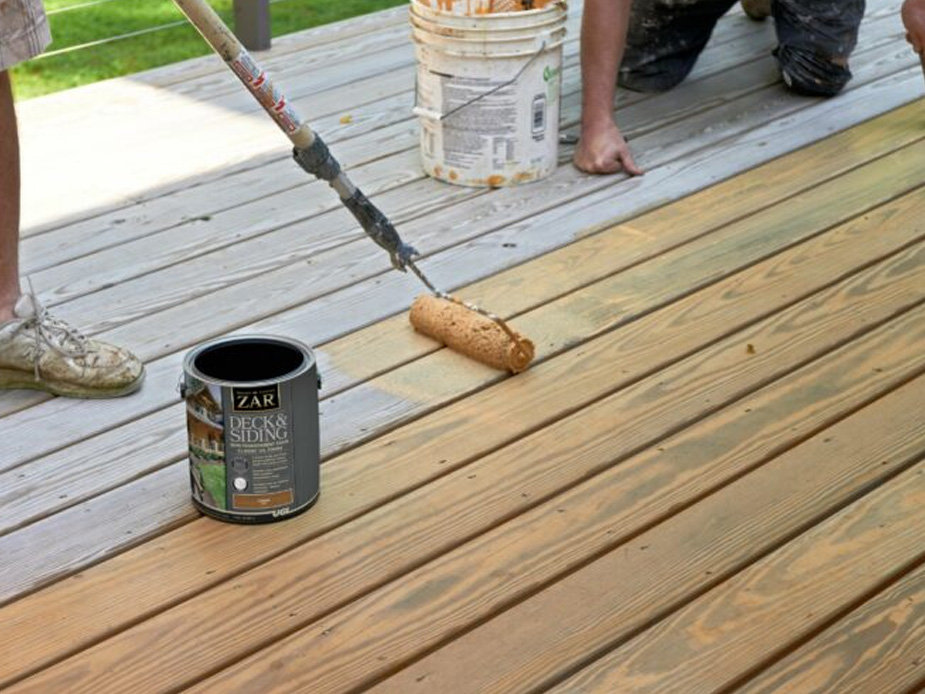 Deck Staining and Sealing
Protect your deck and the exterior beauty of your home. Staining and sealing keep water from seeping all through the wood that the deck is made of, which can cause the planks to warp and distort. Chevy Chase Exteriors takes pride in our experience, our excellent hard-earned reputation in the community, and our exceptionally good customer service. Our leaders, Murray, Mark & Joey, will personally make sure that you have the most pleasant experience possible. Our staff is top-notch.
When staining a deck there are many colors and grains to pick from. This gives you a variety of different options for how your deck will look. Chevy Chase Exteriors offers a wide all sorts of stains, from rustic grays to bold reds, and everything in between. We will consult directly with you to ascertain all of your wants and needs and then make your vision a reality.
We are also available to completely refinish decks. This is when the boards are sanded down before stain and sealer are applied. Once again, we'll work directly with you to find a solution that fits your unique needs.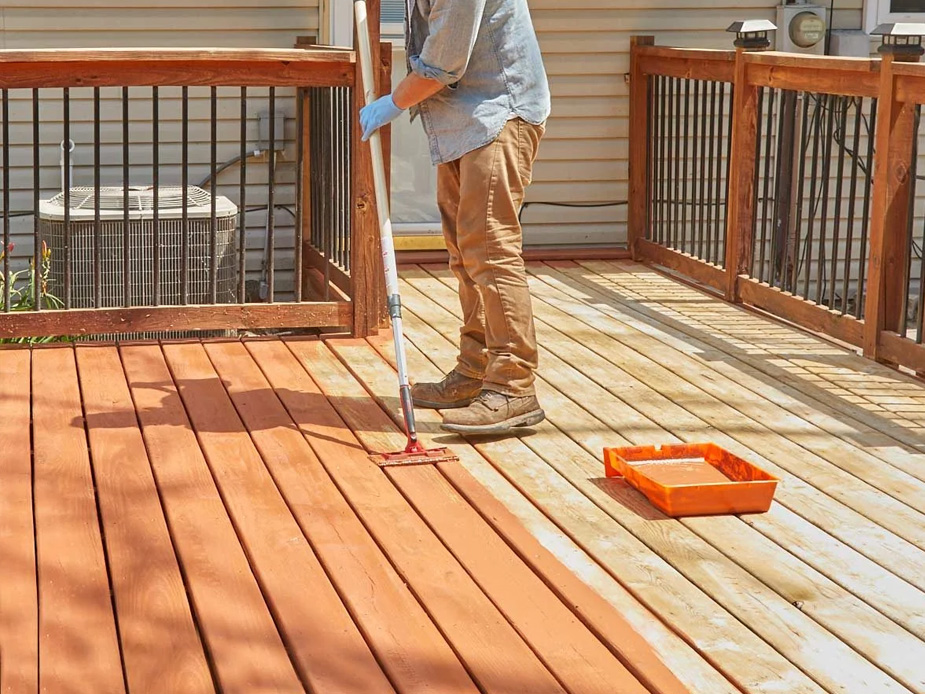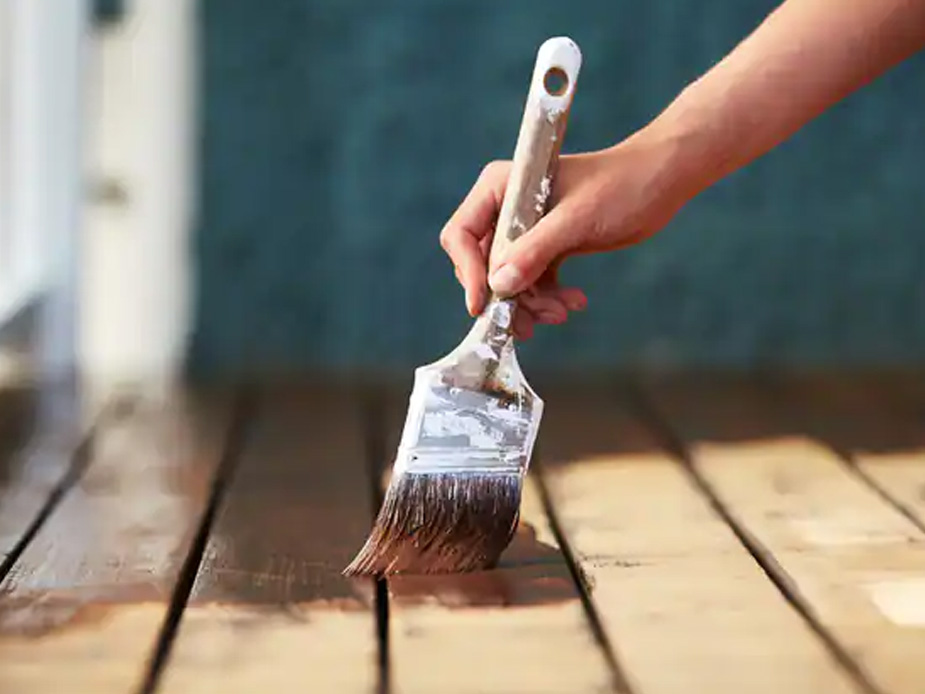 Deck Resurfacing
Decks are extensions of your home's living space. When your deck becomes worn from exposure to harsh weather, it's time to give it new life by refinishing the deck.
Refinishing a deck is more cost-effective than replacing a deck. Often, a good power wash cleaning and finish with stain or sealant will renew your deck. Chevy Chase Exteriors can resurface your deck and make it look good as new. We can assist you by helping you choose your stain or sealant. We can provide samples and color swatches and show you before and after photos of how a resurfaced deck can look.
Call one of our decking professionals at (301)655-1740 today.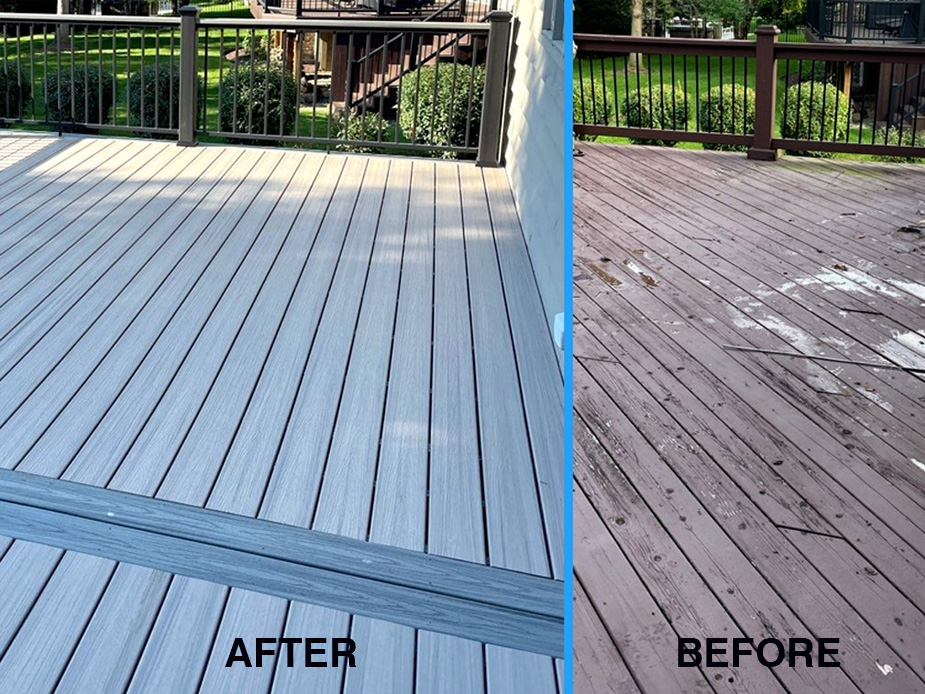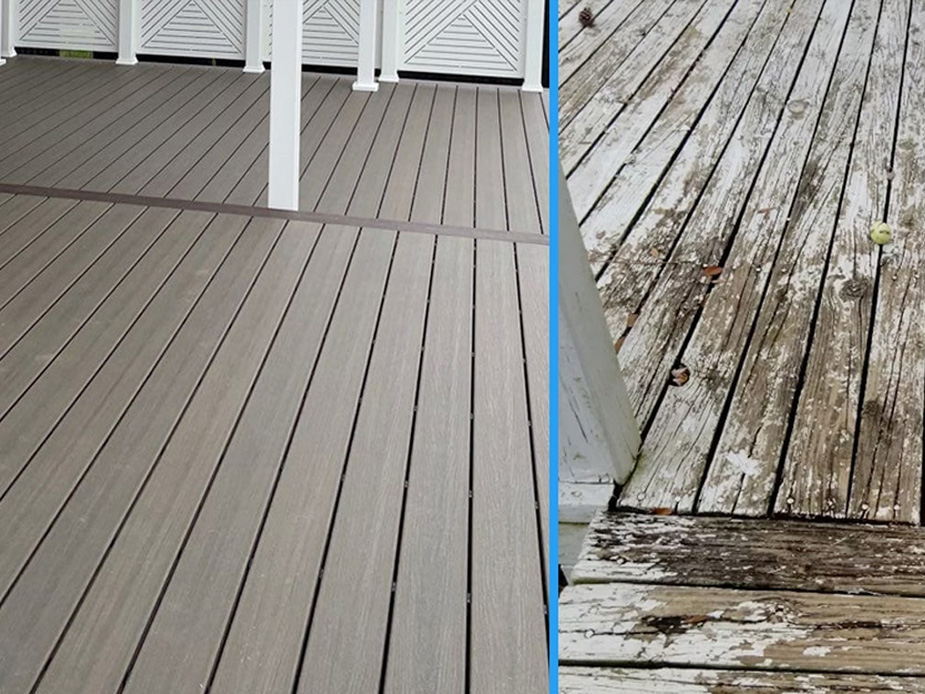 Service Area
Our service area includes lower Montgomery County and Northwest DC, primarily in the Chevy Chase, Bethesda and Upper NW D.C. corridor. Again, please don't hesitate to call us with questions at (301)655-1740
For your FREE estimate call the owner, Murray Greenberg now at
301-655-1740
Website designed and maintained by