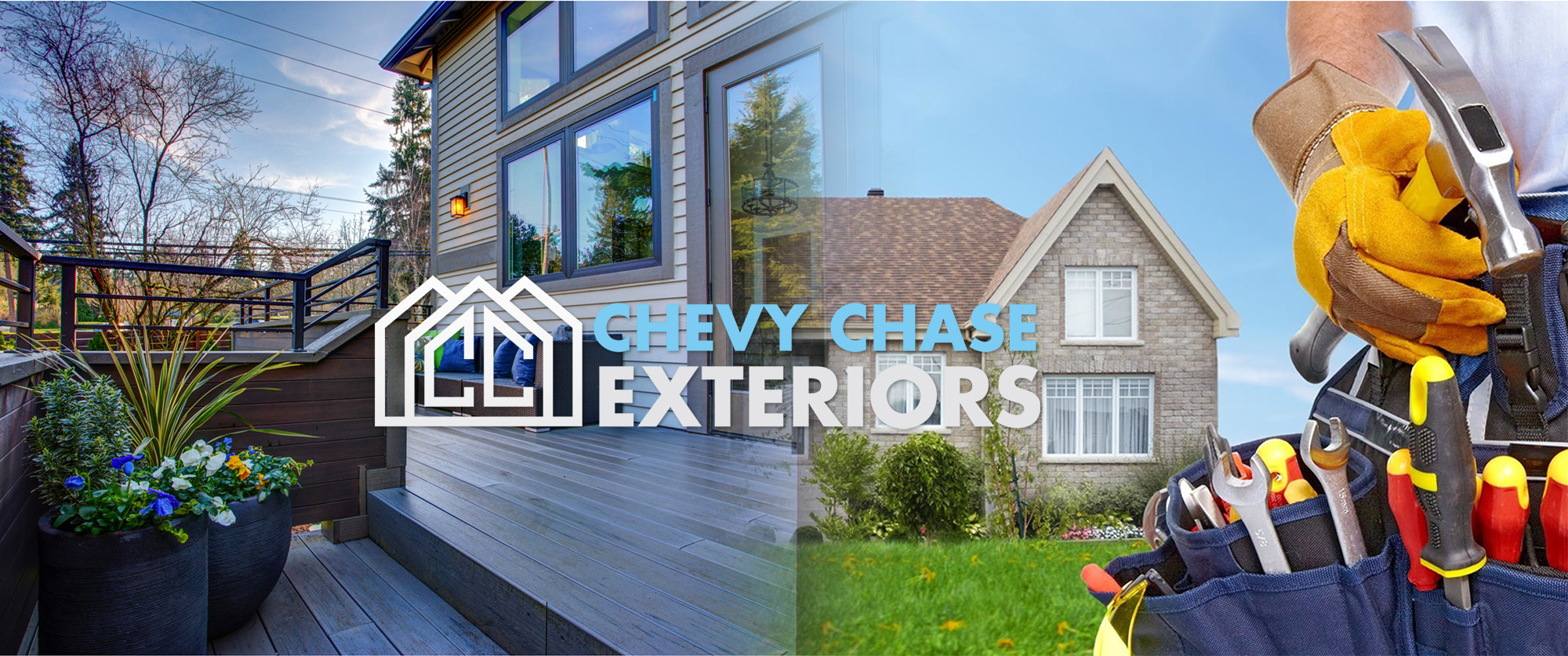 Your Local Bethesda/Chevy Chase Handyman, Maintenance, Cleaning & Small Construction Specialists
• Exterior Home Repair and Remodeling • Deck Renovation and Maintenance • Gutter Cleaning, Repair and Installation • Pressure Washing • Roof Cleaning • Window Cleaning • Water Damage Restoration & Repair • Mold Remediation & Mold Repair • Mildew Removal & Mildew Repair • Kitchen Remodels • Bathroom Remodels • Handyman Services
Your Local Bethesda/Chevy Chase Handyman, Maintenance, Cleaning & Small Construction Specialists
• Exterior Home Repair and Remodeling • Deck Renovation and Maintenance • Gutter Cleaning, Repair and Installation • Pressure Washing • Roof Cleaning • Window Cleaning • Water Damage Restoration & Repair • Mold Remediation & Mold Repair • Mildew Removal & Mildew Repair • Kitchen Remodels • Bathroom Remodels • Handyman Services
Welcome to Chevy Chase Exteriors. We treat your home or business like we would our own. We are proud members of the Bethesda, Chevy Chase community. Our leadership, Murray, Mark & Joey, stake their name on each and every job and oversee every project. We specialize in improving the quality of life, the condition of our environment, and the property value for residences and businesses in Chevy Chase, Bethesda, Maryland, and Upper NW Washington DC. We provide all types of critical handyman and maintenance services at affordable prices. Whatever you or your business requires, from window cleaning to gutter guards to deck repairs or kitchen renovations, Chevy Chase Exteriors guarantees that you will be ecstatic with our results!
Call Chevy Chase Exteriors and find out what so many of your neighbors already know, that we are more than just an exterior cleaning service, we are your friends, neighbors, and home or business improvement partners.
Our Services

We are experts in home repair, construction, and handyman services.
Professional, On-Time, Licensed, Bonded, and Insured
Contacts
4405 East West Highway, Suite 308, Bethesda, MD 20814
Call Now!
Call now and speak to the owner,
Murray Greenberg, for your FREE no obligation quote.

Chevy Chase Exteriors Inc serves clients across Bethesda MD, Rockville, MD, Kensington, MD, Chevy Chase, MD, Washington, DC, Potomac, MD, Montgomery County, MD, Silver Spring, MD, North Bethesda, MD, Gaithersburg, MD, Germantown, MD, Wheaton-Glenmont, MD, Derwood, MD, Rollin Park, MD, Colesville, MD, North Potomac, MD, Friendship Heights, DC, Glen Echo, MD, Cabin John, MD, Darnestown, MD, Aspen Hill, MD, Olney, MD, Layhill, MD, Takoma Park, MD
For your FREE estimate call the owner, Murray Greenberg now at
301-655-1740
Website designed and maintained by