Since Chevy Chase Exteriors can help you with small important interior projects as well, we are ready to help with any water damage restoration issues that you may have. We know how important addressing water damage issues is when it comes to maintaining any home or business. Aside from the costly and unsightly damage that water can cause, there is also the potential for developing dangerous mold, mildew, and even structural issues. Even a small leak can cause a great amount of water damage if not properly and quickly addressed. Our water damage restoration experts can fix the issue and remove all the hazards quickly and safely. We can repair the water damage and restore the affected area. We understand that water damage is not something any home or business owner wants play with. We can dry the area, remove mold and mildew, and restore the damaged flooring, drywall, or most surfaces so that they look good as new and are as environmentally healthy as ever.
If you need water damage restoration or water damage repair services for your home or business, simply call us and one of our local experts will gladly help remedy the situation. As always, Chevy Chase Exteriors will give you the same great service and quality of work that we are widely known for in the Chevy Chase, Bethesda and Northwest DC communities. Don't delay, call us today, the quicker we can address the issue, the better off you'll be!
Call now for your FREE, no obligation quote! 301-655-1740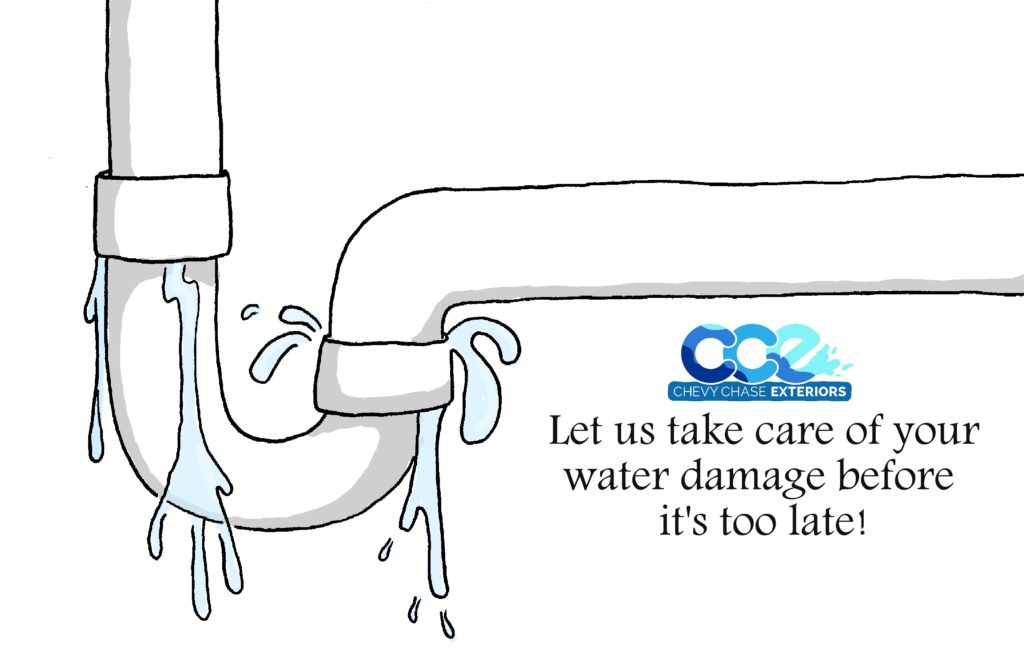 How We Work
The members of our water damage restoration and repair team are highly experienced. We're committed to being efficient, detail-oriented, and conscientious, and we treat each property with the utmost care and respect. You won't have to worry about a mess being left behind. As our customer, you can benefit from our:
Reasonable rates
Honest estimates
Flexible appointment times
Why Choose Us
Customer Focused
Our specialists are here to serve your specific needs. We won't stop until you're 100% satisfied.
Affordable Prices
With some of the best prices on the market, we guarantee your experience with us to be a pleasant one.
Got Questions?
1. When can we get started?
In short, we can get started right away! Once we have spoken to you, we'll send one of our service professionals out to your home to give you a free estimate on your water damage and restoration needs.
2. How much does it cost?
The cost of water damage and repair work varies from job to job based upon several factors, including the size of the damaged area and the work that needs to be completed.
3. What other help is available?
Here at Chevy Chase Exteriors, we are skilled in dozens of home improvement areas for your convenience. Call us today to see how we can help!
4. What payment methods do you accept?
We accept both cash and credit cards.