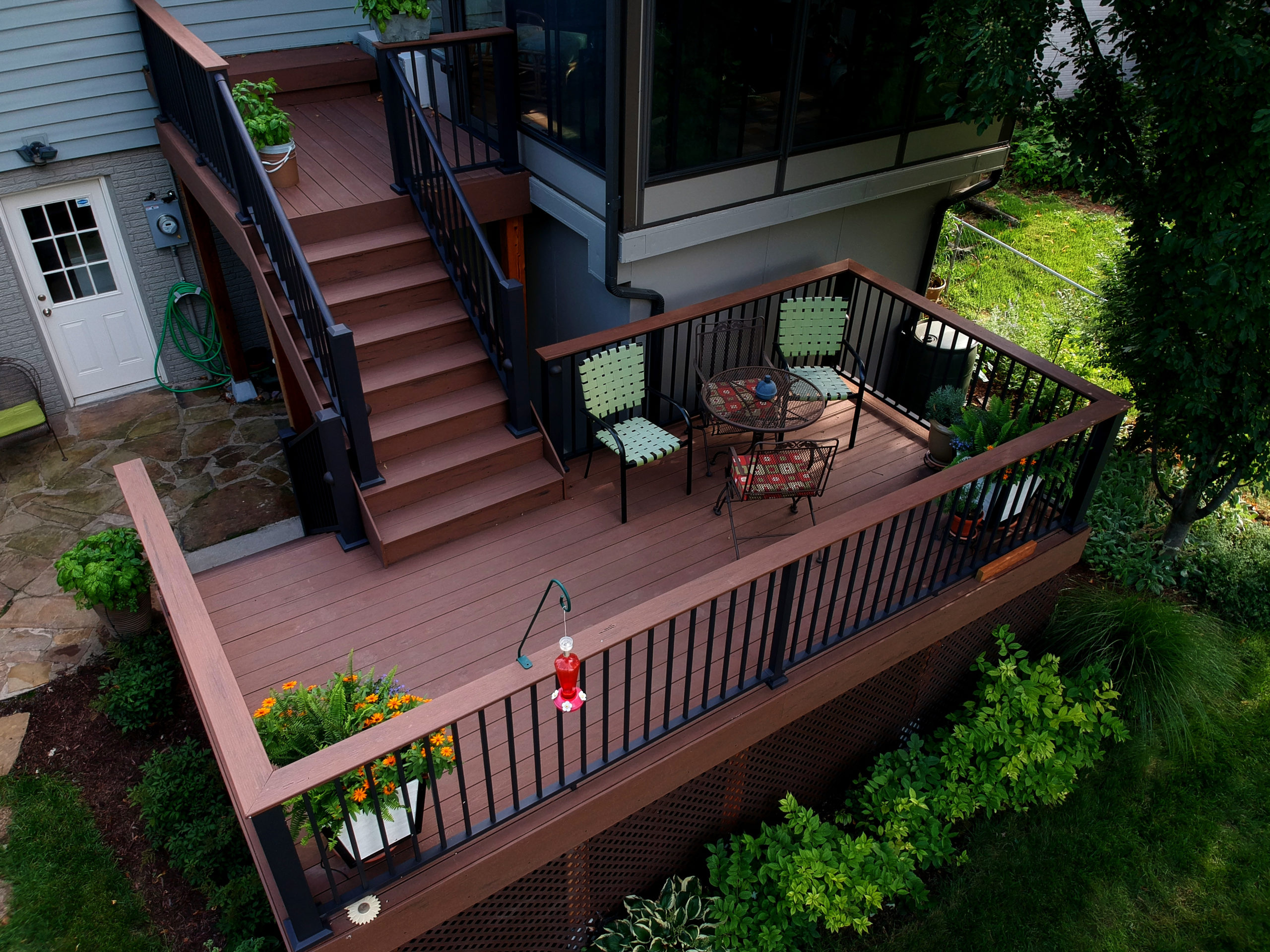 Trex
Chevy Chase Exteriors is proud to offer Trex composite decking, great looking decking material that is extremely strong and durable. We care so much about our community and the environment that we recommend depriving our company of a long term business opportunity, because we'll be eliminating any deck repairs or deck maintenance for many years to come once the Trex decking is installed. But we love our neighbors and the environment, so we know Trex is one of the bet deck surface options on the market. We use Trex not only because they offer the highest quality decking material, but because of their commitment to environmental and social responsibility. These are values that we hold dear as part of our ongoing long term commitment to making our community a better place to live. So if you want the best looking, safest, most durable and healthiest deck possible, let our experts resurface your deck with Trex today!

Trex is a type of composite decking made from 95% recycled wood and plastic. Unlike wood, it requires very little maintenance and it won't rot. You'll be able to enjoy it almost maintenance free for many years. You might have to sweep it off once in awhile! Unlike earlier types of composite it won't fade or mildew. What sets Trex apart the most, though, is its beauty, with deep faux wood grains and over a dozen colors to choose from, there's a Trex collection for everyone. Call 301-655-1740 and get your free Trex quote today!
How We Work
The members of our Trex team are highly experienced. We're also committed to being efficient, detail-oriented, and conscientious. In that regard, we treat each property with the utmost care and respect. Furthermore, you won't have to worry about us leaving a mess behind. As our customer, your benefits include:
Reasonable rates
Honest estimates
Flexible appointment times
Why Choose Us
Customer Focused
Our specialists are here to serve your specific needs. We won't stop until you're 100% satisfied.
Affordable Prices
With some of the best prices on the market, we guarantee your experience with us to be a pleasant one.
Got Questions?
1. When can we get started?
In short, we can get started right away! Once we have spoken to you, we'll send one of our service professionals out to your home or office to give you a free estimate on your deck resurfacing with Trex.
2. How much does it cost?
Our prices vary depending on the size of your deck and specific needs. So call now for a free estimate.
3. What other help is available?
Here at Chevy Chase Exteriors, we are skilled in dozens of home improvement areas for your convenience. Call us today to see how we can help!
4. What payment methods do you accept?
We accept both cash and credit cards.