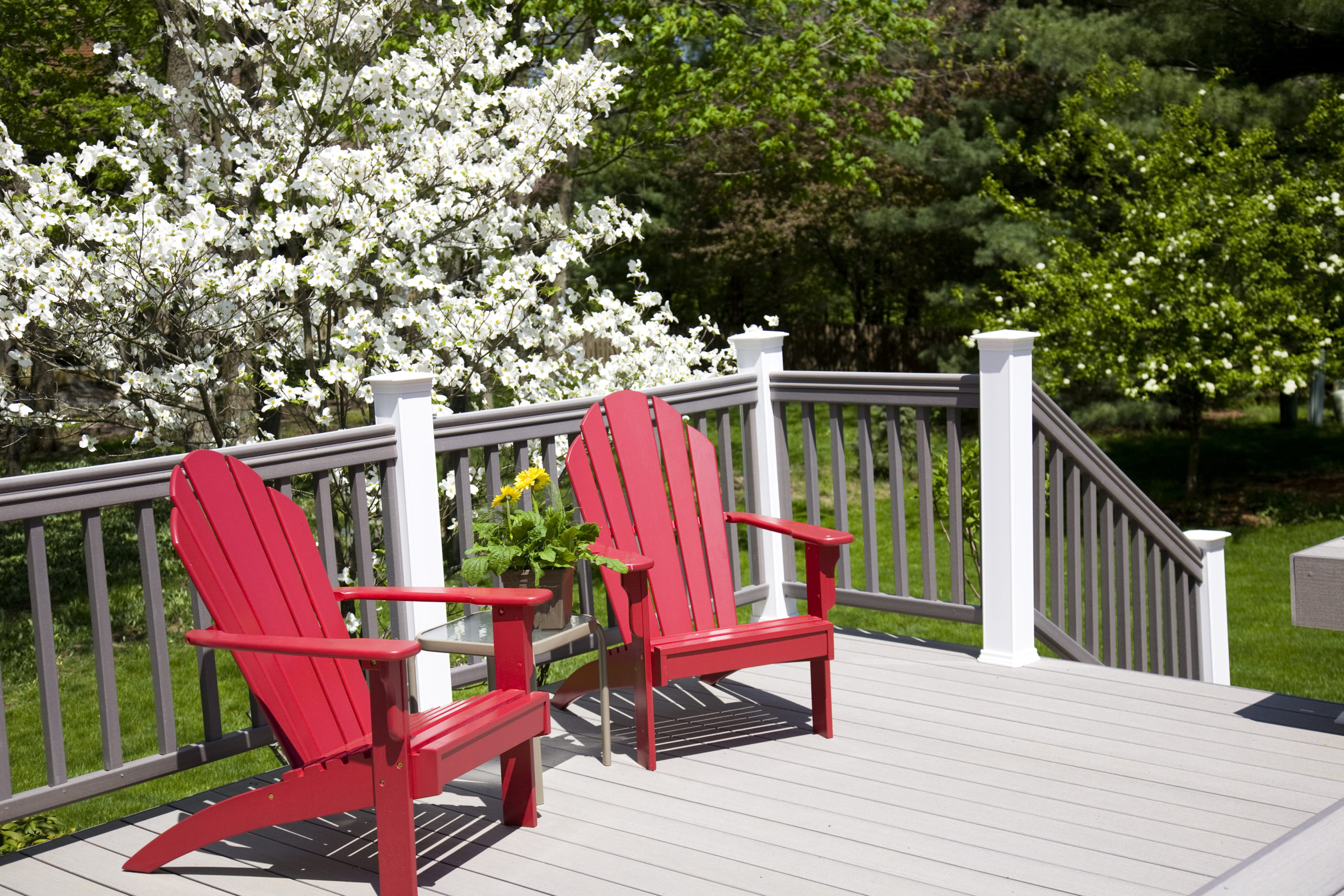 Deck Painting
Want your deck to look and feel brand new again without that new deck construction price tag? A professional paint job applied by skilled painters can do the trick. If your deck needs a new coat of paint, contact us here at Chevy Chase Exteriors. We're the local family value one-stop deck and handyman service shop. We will sand off all of the old, dingy paint before we apply any new coat, giving it that detailed, finished, new deck look. But the fact is, a properly painted deck has many benefits, and they're not all cosmetic in nature. Freshly pained decks are environmentally safe, the paint repels water protecting the decking itself just like a sealer does, and the paint helps to fill in small cracks throughout the wood decking, giving you and your family a healthier, sturdier deck.
Chevy Chase Exteriors carries a wide variety of paint colors for you to choose from, giving you the customized look that you really want. If you need more information, read our article called benefits of paint vs stain. Or feel free to call us any time at 301-655-1740. We're right around the corner and would love to come and visit with you and see how we can help.
Our service area for deck painting is all of Northwest DC and lower Montgomery County, focusing on Chevy Chase, Bethesda and the Upper Northwest D.C. corridor!
How We Work
The members of our deck painting team are highly experienced. We're also committed to being efficient, detail-oriented, and conscientious. In that regard, we treat each property with the utmost care and respect. Furthermore, you won't have to worry about us leaving a mess behind. As our customer, your benefits include:
Reasonable rates
Honest estimates
Flexible appointment times
Why Choose Us
Customer Focused
Our specialists are here to serve your specific needs. We won't stop until you're 100% satisfied.
Affordable Prices
With some of the best prices on the market, we guarantee your experience with us to be a pleasant one.
Got Questions?
1. When can we get started?
In short, we can get started right away! Once we have spoken to you, we'll send one of our service professionals out to your home or office to give you a free estimate on your deck painting.
2. How much does it cost?
Our prices vary depending on the size of your deck and specific needs. So call now for a free estimate.
3. What other help is available?
Here at Chevy Chase Exteriors, we are skilled in dozens of home improvement areas for your convenience. Call us today to see how we can help!
4. What payment methods do you accept?
We accept both cash and credit cards.