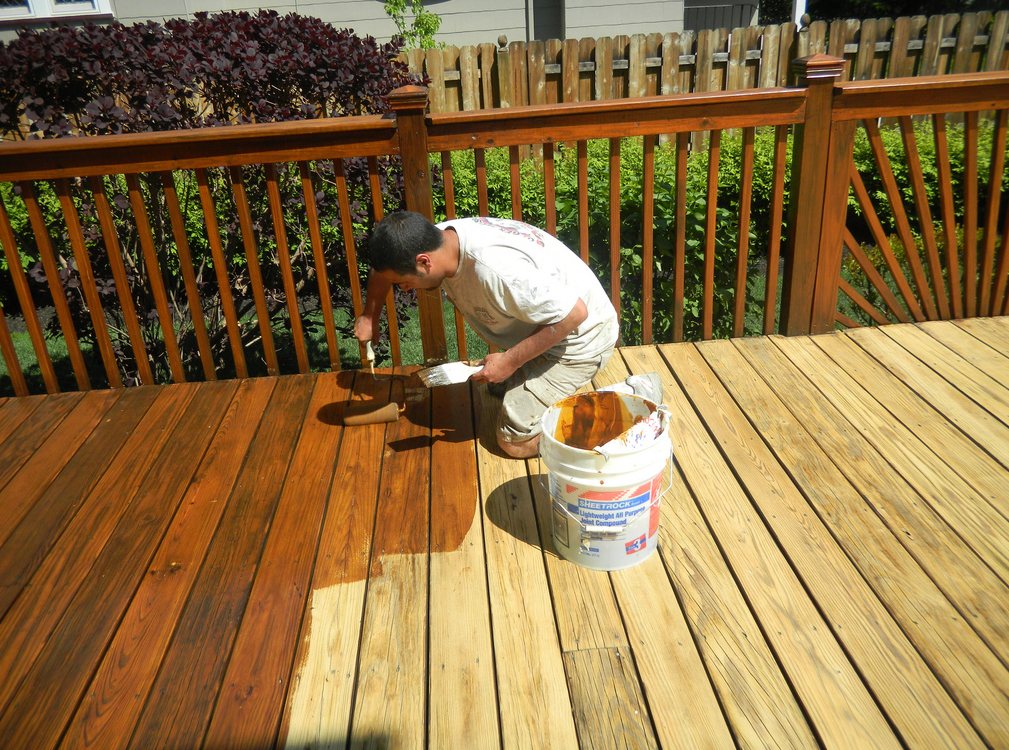 Deck Refinishing
Want your deck to look just like it did when it was brand new? You don't need to have a new deck built to get that look and ease of maintenance back. Call Chevy Chase Exteriors and ask Murray, Mark, Joey, or any of our decking experts about what deck refinishing options we can offer you. Deck refinishing is a great way to revitalize any deck. It brings new life to a worn out deck in a quick, cost effective way, especially when the deck boards are mostly in good condition. Of course, if the deck boards are in bad shape it might be worth considering deck resurfacing instead. But that's why you should call us, your friendly neighborhood decking and handyman service specialists!
The first step we take will be an on site inspection and consultation with you. We want to be thorough and look for rotted boards or other rough spots that need repair. Once we find that deck resurfacing is the solution that best fits your needs, we quickly get our expert staff on the job. The deck is now cleaned and power washed. The old faded and chipped stain and sealer is completely stripped off. The deck is sanded smooth to get the best results, and finally it is stained or painted.
Our service area for deck refinishing covers all of Northwest DC and lower Montgomery County, focusing on Chevy Chase, Bethesda and the Upper Northwest D.C. corridor!
How We Work
The members of our deck refinishing team are highly experienced. We're also committed to being efficient, detail-oriented, and conscientious. In that regard, we treat each property with the utmost care and respect. Furthermore, you won't have to worry about us leaving a mess behind. As our customer, your benefits include:
Reasonable rates
Honest estimates
Flexible appointment times
Why Choose Us
Customer Focused
Our specialists are here to serve your specific needs. We won't stop until you're 100% satisfied.
Affordable Prices
With some of the best prices on the market, we guarantee your experience with us to be a pleasant one.
Got Questions?
1. When can we get started?
In short, we can get started right away! Once we have spoken to you, we'll send one of our service professionals out to your home or office to give you a free estimate on your deck refinishing.
2. How much does it cost?
Our prices vary depending on the size of your deck and specific needs. So call now for a free estimate.
3. What other help is available?
Here at Chevy Chase Exteriors, we are skilled in dozens of home improvement areas for your convenience. Call us today to see how we can help!
4. What payment methods do you accept?
We accept both cash and credit cards.